Learn more
About Havertown Automotive!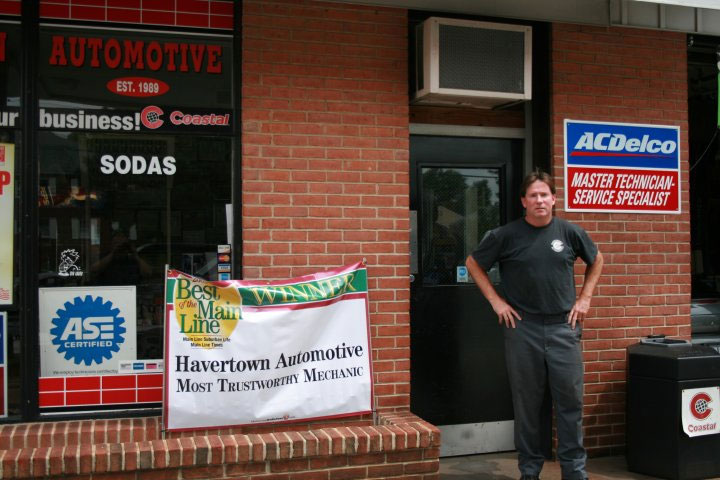 Havertown Automotive is a full-service preventive maintenance and auto repairs center in the Havertown, PA 19083 area, specializing in automotive repair services ranging from a basic Pennsylvania state inspection and Emission to tire replacements to engine repairs and replacements. Our experts have the knowledge to service and repair even the most challenging auto problems on all makes and models of domestic and imported vehicles. We use the latest technology to assess the situation and offer you alternatives. We guarantee our work and know you'll be happy with the outcome. Stop in or give us a call at 610-789-7034 to let us know how we can help you!
Call us today!
Is your vehicle making sounds or driving abnormally?
Contact Havertown Automotive to get your vehicle examined, diagnosed, and quoted by ASE Certified Technicians.
Contact an Expert
Google Certified
Testimonials
I have been taking my car to Bill for years. Best mechanic in Havertown. Nice guy and very honest. Highly recommended.
Bill and his crew have taken good care of my car many times. I have full confidence in their work and appreciate their honesty. I recommend Havertown Automotive to everyone I know.
My car needed to be inspected. I searched the internet for recommendations and found great reviews for Havertown Automotive. Since they are local, I decided to give them a try. I was not disappointed. They did the work that was required and didn't try to sell me anything I didn't need. A few days later I got a nail in my tire. The mechanic remembered me from the inspection and looked at my tire immediately. He gave me a temporary fix until he could fix it completely. I use to always bring my car to the dealership for all repairs. Now I have a new local place for repairs. Thanks Havertown Automotive!
Bill has been my mechanic for 20+ years. He explains my problem, shows me damaged or worn out parts first where necessary. He is an excellent diagnostician. Discusses problems before any work is done. Honest & caring. Tries to work around my schedule. Glad he is my mechanic.
Write Review
We also have over 700 Sure Critic Reviews!
Click the logo to view SureCritic Reviews!